WELCOME to i-MEET 2020

---
It is a great pleasure to welcome you to the very last edition of the i-MEET congress in Nice.
Despite the latest developments of the health situation related to the Covid-19 pandemic, we wish to do our best to make this one a success, with an hybrid solu-tion mixing face-to-face and digital for speakers and participants who are not be able to attend. Our objective in this particular context is to maintain exchanges and interactivity, through industry workshops, clinical cases, videos, debates and audience discussion and we hope you will enjoy. We would like to warmly thank our outstanding scientific committee and our Faculty for their commit-ment, as they did a great job with us in putting together a scientific program which promises to be very exciting.
Take your time to visit the exhibition and discover the Industry news as it is only thanks to their precious help that we managed to organize this congress.
Join us for the official dinner on Thursday night on the Radisson Blu private beach to share with us a unique moment of conviviality. Again, welcome to i-MEET and to Nice, and have fun!
The i-MEET Directors
Koen Deloose, Eric Ducasse, Yann Gouëffic, Barend Mees
The i-MEET free app is now available
Stay connected at all time with your i-MEET congress :
Find all the practical i-MEET information
Go through the program of the conference and save it in your personal calendar
Search for industry representatives, and locate them in the exhibition hall, it guides you through the exhibition hall with a map
Download the map of the congress
FREE LIVE WEBCAST

Time to register – just a few days to go for
the i-MEET Congress live:
Register now for the i-MEET virtual congress to follow high quality presentations and discuss with leading specialists.
Make sure to join us to take advantage of this wealth of knowledge and experience!
Thursday September 17
8.30 am – 4.00 pm
Friday September 18
8.30 am – 12.30 pm
Step 1: link to register
Step 2: link to follow the webcast
---
Meeting venue
Radisson Blu ****
223 Promenade des Anglais
06200 Nice – France
---
HOW TO GET THERE
From the airport:

By public transport:
Tramway (T2) and buses No. 98, 52, 70 stop right in front of the hotel (Saint Hélène stop), less than 15 minutes.

Taxi:
Taxi cars are available at terminals 1 and 2. Average fare from the airport 25 €.
---
FREE WIFI AT THE VENUE
Network: Radisson Guest
Once connected please accept the general conditions and enjoy the free WIFI.
---
i-MEET OFFICIAL DINNER
Thursday September 17
08:00pm till midnight.
Venue: Radisson Blu hotel private beach
Participation fee: 70 € VAT incl. per person
Dress code: casual chic
Limited seats
---
REGISTRATION & INFORMATION DESK
Wednesday, September 16: 12.30pm – 06.40pm
Thursday, September 17: 08.00am – 05.00pm
Friday, September 18: 08.00am – 02.00pm
---
EXHIBITION HOURS
Thursday, September 17: 08.00am – 06.40pm
Friday, September 18: 08.00am – 02.00pm
---
WORKSHOPS
Do not forget to register to our workshops on Wednesday: workshops are free but registration is mandatory

---
All necessary security measures will be taken to ensure your safety
Wearing a mask is compulsory in the congress area
Surgical masks & hydro-alcoholic gel available at registration desk
Distanciation respected in the plenary room, preview room, workshop room and in the exhibition
One way traffic flow around the buffets and service provided by the waiters during coffee breaks
Table service at breakfast and lunch (no buffet service) at the hotel restaurant (ground floor)
Regular cleaning and disinfection
---
EVENT COORDINATORS' CONTACTS
Registration and Housing contact:
Caroline Lefrançois
+ 33 (0) 673 53 45 89
clefrancois@divine-id.com
Faculty contact:
Charlotte Martin
+ 33 (0) 613 96 08 70
cmartin@divine-id.com
General manager:
Vérane Bergeron Moreau
+ 33 (0) 621 78 87 16
vbergeron@divine-id.com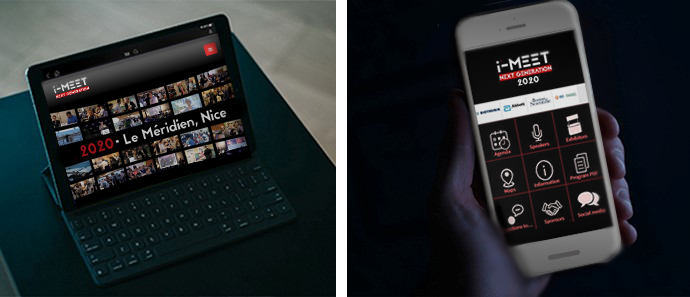 ---
---
Watch the best of i-MEET 2019
The last edition of i-MEET proved to be a real interactivity success. No doubt this is the only congress with true interactions debates and discussions with the audience. We are thankful to our fantastic animators, our outstanding speakers, and more than 300 active participants. Save the date to join us next year!